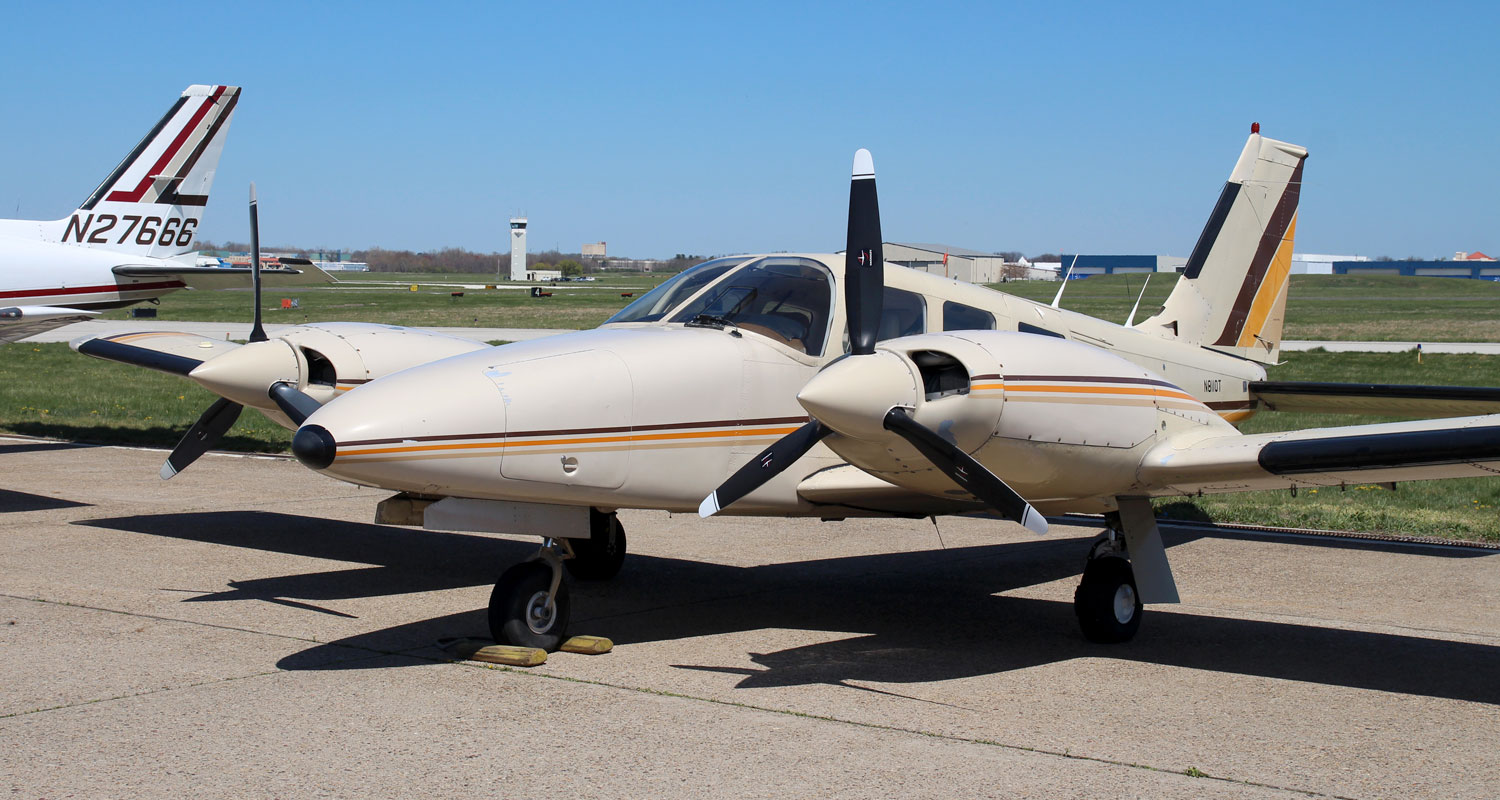 Piper Seneca (coming soon)
The airplane is a seven-place, low wing, twin engine airplane equipped with retractable tricycle landing gear.
This airplane is certified in the normal category. In the normal category all aerobatic maneuvers including spins are prohibited. The airplane is approved for day and night VFR/IFR operations when equipped in accordance with F.A.R. 91 or F.A.R 135.
The aircraft is powered by a Lycoming IO-360-C1E6 and a LIO-360-C1E6, rated at 200 horsepower each. Both are four cylinder, normally aspirated, direct drive, air cooled, horizontally opposed, fuel injected engines.
Two 25-gallon aluminum tanks in each wing are interconnected to eliminate problems of tank selection and to simplify fuel management. Both tanks in each wing are filled from a single opening in the outboard tank, and fuel from the outboard tank flows into the inboard tank as the fuel from the inboard tank is consumed. In normal operation, each engine operates with an independent fuel system, drawing fuel from the tanks in the wing on the same side as the engine. However, the two systems are interconnected by crossfeed lines which will permit an engine to use fuel from the tanks on the opposite side in order to extend single-engine range and to enable the pilot to keep fuel weight balanced. An engine driven fuel pump is the primary means of supplying fuel for each engine. In case of failure, there is an auxiliary fuel pump installed. To permit the pilot to monitor the system, fuel pressure, fuel flow, and fuel quantity gauges are mounted on the instrument panel.
Electrical power is supplied by two 60 ampere alternators, one mounted on each engine. A 35 ampere-hour, 12-volt battery provides current for starting, for use when the engines are not running, and for a source of stored electrical power to back up alternator output. An overvoltage relay in each alternator circuit prevents damage to electrical and avionics equipment..
If you have any questions, would like to learn more about this aircraft, schedule a rental or an aircraft checkout, please feel free to call Legacy Aviation at 215-969-0311.
Maximum speed
235 mph
Cruise speed
216 mph
Range
1000 mi
Service ceiling
25000 ft
Rate of climb
1550 ft/min