Raising the standards of pilot training by incorporating a highly sophisticated state of the art simulator.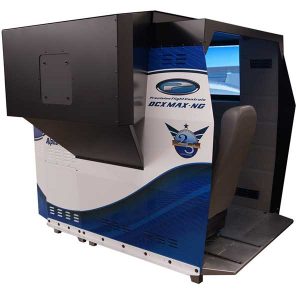 Here at Legacy we believe flight simulation is the key component to every pilot's curriculum, regardless of whether he or she is just starting out, staying current, or landing a type rating. Reality states nothing beats hands on experience but we believe there is much to gain from the use of these machines including safety, economic, and educational benefits. Flight simulator training empowers a more competent and comfortable student when transition to an actual aircraft occurs. A flight simulator is a machine precisely designed to resemble the cockpit of an aircraft. It's fully equipped with computer-generated images that mimic the pilot's view along with mechanisms that move the entire structure in imitation of an aircraft's motion. Today simulators have evolved to incorporate realistic visuals of airports around the world. Students get to experience what it would be like to land on the Wall Street Heliport or even an aircraft carrier.
This type of training requires preparation, situational awareness, and a focused mentality as students are to treat the simulator as if it were an actual aircraft. During the training process a qualified instructor will put a student through a wide variety of real life scenarios, different environments, and irregular weather conditions without ever actually leaving the ground. Though abnormal and emergency simulations are always the most challenging we at Legacy Aviation strongly believe if a pilot is well schooled and prepared they will always fall back on their training in real life situations.
DCX MAX NG
The DCX MAX NG is the newest cockpit AATD system on the market. The system boasts an impressive list of standard and optional features that make it the most advanced trainer in its class. The DCX MAX is deployed on six continents and is fast becoming one of the most popular cockpit AATD systems in the world.
Aircraft Included

Standard

Added On

Cessna 152
Cessna 172P
Cessna 172R
Cessna 172S
Cessna 182
Cessna 182RG
Cessna 182T
Cessna T182T
Cessna 206H
Cessna T206H
Cessna 210
Cessna P210
Cessna 310R
Cessna 414A
Cessna 421C
Beechcraft Bonanza
Beechcraft Bonanza TC
Beechcraft Baron
Beechcraft Baron TC
Beechcraft Duchess
Beechcraft Travel Air
Piper Warrior II
Piper Archer III
Piper Arrow III
Piper Arrow III TC
Piper Arrow IV
Piper Arrow IV TC
Piper Malibu Mirage
Piper Seminole
Piper Chieftain
Piper Seminole TC
Piper Seneca I
Piper Seneca V
Mooney 201
Mooney 231
Mooney 252
Diamond DA20
All-Metal Construction
Spacious Cockpit Environment
Overhead Panel
Four Adjustable Overhead Swivel Lamps
Single Engine Throttle/Prop/Mixture Quadrant
Multi-Engine Throttle/Prop/Mixture Quadrant
Dual-Axis Dynamic Control Loading (Pitch/Roll)
Professional Rudder Pedals
Digital Avionics Enhanced
530W GPS
New Independent USB Avionics
Active Circuit Breaker Panel
Reality XP Professional GNS 430W/530W XP Software
X-Plane Professional Software
Instructor's Operating Station (IOS)
Quality Interior Upholstery Package
Integrated Cockpit Air Flow System
New Exterior Cockpit Graphics Package
Single Engine Interchangeable Start Panel
Multi-Engine Interchangeable Start Panel
Single Engine Interchangeable Fuel Selector Panel
Multi-Engine Interchangeable Fuel Selector Panel
30″ Widescreen LCD Display (Instructor's Operating Station)
PanoraMax (5) 40″ 225 Degree Widescreen Visual System
Computer Rack System w/ Built-in IOS Desk
Back-up System Solid State Hard Drives
37 Aircraft (Single Engine and Multi-Engine) Fleet
4-Way Intercom
Co-Pilot Controls w/ Dynamic Control Loading (Pitch/Roll)
Co-Pilot Instrument Screen
E2Can Can Bus Interface
E2 Can Software/License
Dual Professional Rudder Pedals
Leather Co-Pilot Seat with Adjustable Base and Tracks
Promo II Cuing System with 3-Axis Motion
Custom Cockpit Graphics
PFC 430 Enhanced Dual GPS
Go-Pro Onboard Hero Video Kit